At Yale's May 11th symposium "Is This Permanence?", Still Water's John Bell and Jon Ippolito help curators and historians plan for a digital future in which "archival material" could be a contradiction in terms.
The concept of permanence has proven unexpectedly shifty over the last century. For much of the 20th century, it seemed that civilization had devised an arsenal of recorded formats that would save Maria Callas's voice and Charlie Chaplin's gait for posterity. Unfortunately, by the dawn of the 21st century, much of the celluloid and magnetic tape that captured these recordings began crumbling into dust or demagnetizing. In the meantime, the latest objects of contemporary culture have been increasingly produced and preserved in digital media that, as Bruce Sterling quips, have the lifespan of a hamster.
This ephemerality threatens not just the works of art society enshrines in its pantheons, but also those artists' archives. Historians rely on archives for the threads from which to reconstruct the texture of daily life. Yet this tapestry will unravel if the materials from which it is woven prove as ephemeral as the artworks themselves.

This predicament is the subject of Yale's May 11th conference "Is This Permanence?", which features curators, archivists, and scholars striving to re-create for digital archives the permanence historians have long taken for granted with traditional artists materials.
Still Water's Jon Ippolito doesn't believe there is such a thing as the digital equivalent of a permanent marker. Drawing on his book with Richard Rinehart Re-collection, Ippolito's keynote for the Yale conference argues that to write the future with ink that never fades will result in losing the liveliness of the original text:
Sprinkle some metadata and funding on archival files, and the original artworks or ephemera are supposed to spring back to life for exhibition or scholarly review. This keynote aims to debunk this pipe dream, considering specific cases where today's archival formats completely fail to produce their intended benefit….the talk concludes with alternative strategies that are expansive and creative enough to capture the vibrancy that makes the art of our era worth preserving in the first place.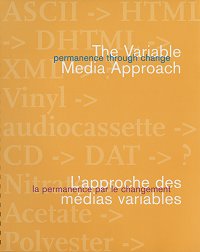 Ippolito's approach embodies the concept summed up by the title of the 2003 book Permanence Through Change. This free-to-download text set out the ideas of variable media as applied to a half-dozen case studies from film to performance to installation to online art. The book is one of the textbooks for the University of Maine's all-online Digital Curation graduate program.
John Bell, meanwhile, speaks on how communities self-archive online, with a focus on gamers who take the initiative to preserve online games without official affiliations to museums or game companies. Bell argues that guidelines for preservation can't exist outside of context, which means crowdsourced preservation will serve the needs of the crowd. In the case of games, fan communities might prioritize, say, randomized play rather than fidelity to a particular historical moment.

Sara England and Mikhel Proulx of Concordia University likewise tackle community-specific preservation in their presentation on "Archiving Aboriginal Territories in Cyberspace." Culturally sensitive production and access has been the subject of several Still Water projects, including Joline Blais' work on the Cross-Cultural Partnership and Craig Dietrich's work with Scalar, UBC Press, and Mellon on a publishing platform for born-digital Indigenous books.
Related to Bell's discussion of crowdsourced preservation is a talk by Colin Post of the University of North Carolina on distributed preservation as it might be practiced by artists and museums. Others also look at the interaction of museums and official institutions, including the Whitney Museum's Farris Wahbeh, NYU's Deena Engel and Glenn Wharton, and Laura Molloy of the University of Oxford, who will discuss how the digital revolution has changed artistic practice in the UK.
Specific case studies form the core of another set of presentations, including Hilary Price and Josh Franco from the Smithsonian Archives of American Art and Clifford Allen and Deb Verhoff, who examine the studio archive of multimedia stage director Robert Wilson.

The event is organized by Cate Peebles, a postgraduate researcher working with the National Digital Stewardship Alliance, of which Still Water is a member. The event takes place at the Yale Center for British Art and is free to the public, though advanced registration is highly recommended to ensure a seat.