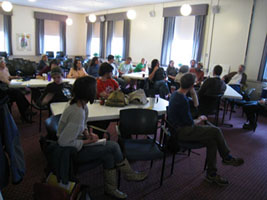 At LongGreenHouse's Green U-Me event, sustainability experts re-designed UMaine's campus to nourish the body as well as mind. Several dozen faculty and students from across the campus also participated in this green design charette, whose goal was to reimagine the University of Maine as an edible food forest.

Master gardener and orchard expert Mark Fulford, who spoke eloquently to the plight of Maine's farmers who try to grow organic but have to compete with Big Farming. Fulford opined that growers used to think farming was all about chemistry, whereas now people are realizing biology is the more important factor.
New Forest Institute founder Andrea Reed spoke to the role art can play in designing sustainable gardens and communities, while Intermedia grad students and UMaine Permaculture founders Bill Giordano and Julian Epps described the range of sustainability programs under way at LongGreenHouse.
After the introductory presentations, Green U-Me participants broke into workshop groups based on issues of green building, water, community, and food forests. This design charette focused on the bioregion at the southern edge of campus, near LongGreenHouse, York Village, and the Eastern Athletic Fields.

The intense brainstorming sessions uncovered numerous common themes among the research of workshop participants, including faculty and students from soil science, cooperative extension, engineering, and new media.
Paul Schroeder of Common Coordinates described his organization's grass-roots approach to getting local governments to pay attention to ecological issues.
LongGreenHouse staffers Joline Blais, Bill Giordano, and Julian Epps are documenting and collating the designs produced for revitalizing U-Me's southern edge for future reference.
In the meantime, for more information on LongGreenHouse and permaculture at U-Me, please contact Joline Blais via LongGreenHouse.