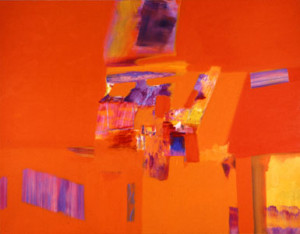 An art opening Friday the 3rd and a presentation Sunday the 5th of August in Rockland, Maine examine the historical importance and visual appeal of the artists who helped start the New York School of abstract expressionism.

Opening Friday from 5-8pm is an exhibition of works by the renowned abstract expressionist Angelo Ippolito organized by Yvette Torres Fine Art with the artist's son Jon. The art magazine Hyperallergic called Torres's last show of women artists from Black Mountain College "museum worthy"; the spacious gallery, at 464 Main Street in Rockland, is a fitting venue for Ippolito's large and luminous canvases.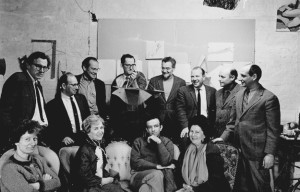 A special presentation on the following Sunday 5 August at 4pm features a live interview Jon will stage with acclaimed painter Lois Dodd, who helped found the first downtown New York artists' gallery, the Tanager, with Angelo. Lois will talk about the life and work of artists of the Tenth Street scene, who gained little attention from the rest of the world at first yet succeeded in shifting the center of the art world from Paris to New York. As the exhibition catalogue describes it,
American artists coming of age in New York in 1950 had each other and not much else. Making a name for yourself in New York was hard even for hotshots like Jackson Pollock and Willem de Kooning, as the city's museums and midtown galleries still focused on European modernists. Not to be deterred, the artistic community centered on East Tenth Street took matters into their own hands, congregating at the Cedar Tavern, debating aesthetics at their own Artists' Club, and founding their own galleries. In the process, they shifted New York's artistic epicenter downtown, where it remained for the next 50 years.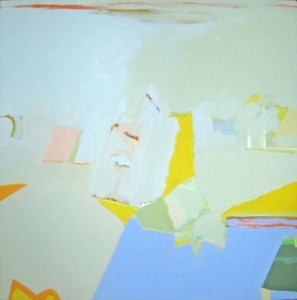 Angelo Ippolito was the driving force behind the Tanager, which gave well known artists such as Elise Asher, Jasper Johns, and Philip Pearlstein their first shows. Dodd and Alex Katz, two Tanager artists with Maine roots, brought what they learned on Tenth Street back to Maine, where their influence can be felt to this day.
The show coincides with a surge of interest in the 10th Street scene, departing from last year's NYU show "Inventing Downtown" curated by Melissa Rachleff. Still Water staff are working on a curatorial project to document the historical ripples of the New York School, creating a digital resource that charts how this nexus spiraled out to influence artists in distant regions, including rural art communities like Maine's.
For now, they have built an artist's website that features some innovative navigation for exploring his works, including an interactive timeline and a tag cloud built from object metadata.