In 2015 Re-collection: Art, New Media and Social Memory continued to gather attention from libraries, universities, and the press. This just-published MIT Press book by Richard Rinehart and Still Water Co-Director Jon Ippolito surveys new paradigms and techniques for safeguarding culture for future generations in the face of imminent technological obsolescence. Since last summer the tour included presentations in Aachen, Brussels, Budapest, Lewisburg, Oslo, Taiwan, and Toronto, as well as a webinar for the National Information Standards Organization.
In June the Norwegian National Video Archive (PNEK) hosted a talk by Ippolito whose title, "Only You Can Prevent the End of History," is the name of Re-collection's final chapter. Held at the Kunstnernes Hus Oslo, the lecture argued that the traditional, storage-oriented approach to archiving video would fail to capture the key behaviors of video art of the 20th-century avant-grade, as well as the encoded, interactive, and networked behaviors of contemporary digital cinema.

The ensuing conversation with the audience, composed of archivists and other experts from the Scandinavian video scene, probed such questions as whether it is more accurate to project a changed/degraded film print or "emulate" its original look with a new clip. Organizers Per Platou and Ida Ghosh also shared a demo of their open-source video collection software, Archive Tool.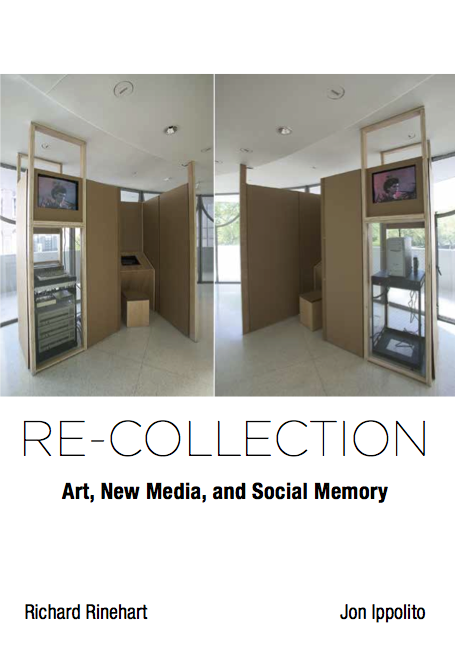 Rinehart and Ippolito's book tour has also included such talks as "Digital Preservation and the Search for Renewable Culture" at the Digital Curation Institute of the University of Toronto and "Lessons from The Erl King" with digital conservator Ben Fino-Radin at Bucknell University. As consultants on Cornell's Preservation and Access Framework for Digital Art Objects, Rinehart and Ippolito also contributed to a workshop on the problem of archiving and rejuvenating CD-ROMs at Cornell and are cited in the white paper culminating from this project.
Aachen, Germany was the site for two presentations: "Digital Preservation in the Age of the Selfie," a keynote for Video Matters, Ludwig Forum für Internationale Kunst, and a roundtable discussion, Archiving Media Art, GAMA (Gateway to Archives of Media Art), on the 24th and 25th of September.
Ippolito drew on the Re-collection chapter on DNA storage for his keynote "In Wildness Is the Preservation of the World," at Preservation and Access to Born-digital culture, iMAL Center for digital cultures and technology, in Brussels, on 30 October.
The possibilities of the organic archive also informed keynote presentations at the National Taiwan Museum of Fine Arts ("The Conservator Has Left the Building: How Institutions Can Adapt to New Media") and at the Ludwig Museum of Contemporary Art in Budapest ("The Art of Re-collecting").
Ippolito's title for a presentation for the National Information Standards Organization (NISO) webinar I Saved the Files But Can I Run Them? consisted of the single word, "No."