Demand for professionals who can manage collections of digital heritage and data continues to climb rapidly as related job postings rose by 130% in 2022, according to an analysis by UMaine's Digital Curation program. This is a dramatic surge compared to the 61% increase over the pandemic years between 2019 and 2021.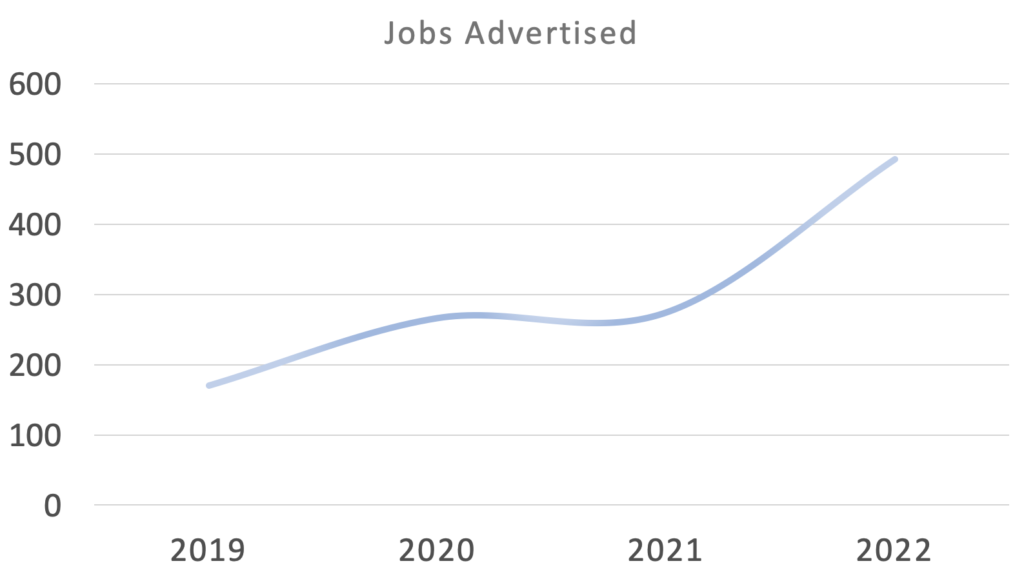 In 2019 the study found 170 jobs advertised on Twitter; in 2022 that number climbed to 492. Along with the usual libraries, archives, museums, and scientific labs was an eclectic spectrum of organizations ranging from the Coney Island historical society to Paramount Pictures to the US Marine Corps.
Despite the increasingly inescapable conclusion that digital curation jobs are essential to almost every field, employers don't seem to have any better sense of what to call these workers than they did four years ago. 2022 saw 376 different digital curation job titles, with none reaching double digit percentages of the total. Winner of the Most Popular Digital Curation Job Title of 2022 is Digital Archivist with 29 positions, followed by Records and Information Management Specialist with 12 and Metadata Librarian with 9.
This only adds ammunition to the running joke among professionals who care for digital data and collections that no two job titles are the same. Among the more exotic titles were Hidden Collections Processing Coordinator, Peoples Archive Manager, and Change Management Professional. This year's titles saw an uptick in certain phrases, including "genealogy," "steward," "applications development," and "data curation."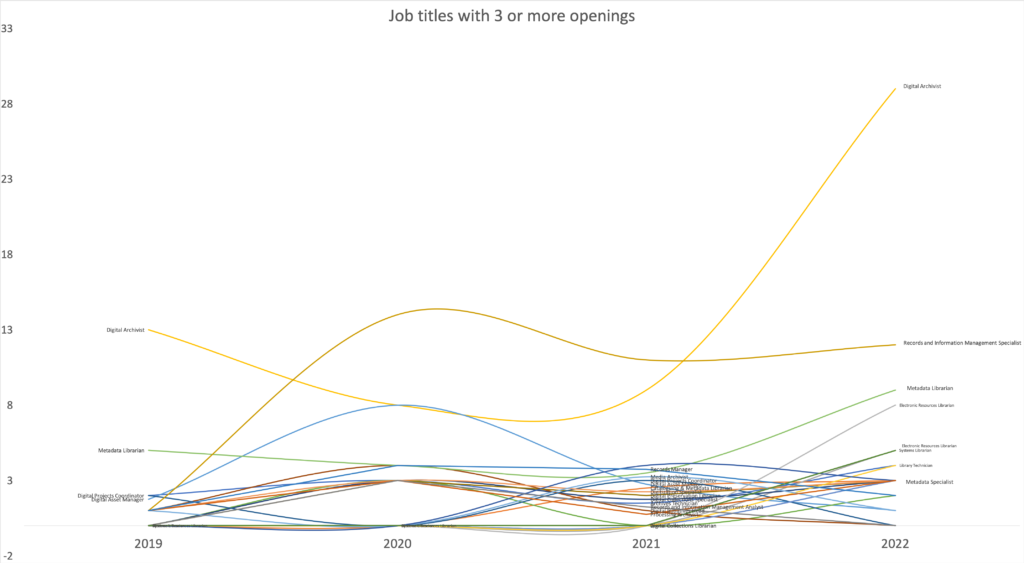 Sources for the analysis, conducted by Digital Curation professor Jon Ippolito, were tweets in English with the hashtags #DigitalCuration and #Job from accounts such as @archivesgig and @DigitCurator. The flow of job information on Twitter stuttered toward the end of 2022 during the turmoil caused by changes made by CEO Elon Musk; this study offsets this reduction in listings by drawing on non-Twitter sources such as the Digital Scholarship RSS feed.
The resulting pool is certainly not all digital curation jobs, but presumably a representative sample for the US and UK. Among the other trends uncovered in the survey is how the overlap of digital skills has increasingly blended previously separate disciplines, as reflected in portmanteau titles such as Archive Curator, Digital Archives Librarian, and Special Collections Instruction Librarian and Curator.
All job tweets were normalized by removing prefixes such as Associate or Senior. Internships, even if paid, were excluded. Generic titles such as Collections Librarian or Python Developer were excluded unless they were directly tied to managing or promoting a digital collection.
Anyone interested in seeing these job announcements in real time can follow the official Twitter or Mastodon account of UMaine's Digital Curation program. Researchers can access online the ranked data compiled by this study for 2019, 2020, 2021, or 2022.
Taught entirely online, UMaine's graduate certificate in Digital Curation offers training to anyone who wants to work in museums, libraries, archives, laboratories, artist studios, or government offices. The program walks students through the phases of managing digitized or born-digital artifacts, including acquisition, representation, access, and preservation. More at DigitalCuration.UMaine.edu.