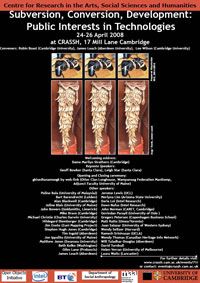 Still Water Research Fellow and Wabanaki elder gkisedtanamoogk joined Joline Blais and Jon Ippolito in presenting Still Water's innovative legal template for fostering collaboration across cultural divides at a Cambridge University conference entitled Subversion, Conversion, Development: Public Interests in Technologies.
Meant to expand the conversation begun at Still Water's 2006 and 2007 Connected Knowledge conferences, this meeting featured researchers in the fields of anthropology, philosophy, religious studies, and the tech industry.
See the ThoughtMesh summary of the Subversion conference.