After observing the impressive response to its fledgling Digital Curation program, which has already been called "a national standard for the study of digital curation," the University of Maine has approved a special discount for out-of-state students. In-state tuition for our Digital Curation graduate certificate is one-third the cost of out-of-state tuition–and anyone who enrolls this month can qualify for this huge discount.
Summer visitors to Maine often express envy for the state's residents, who get to enjoy its beauty year-round. Now folks from other countries and states have one less reason to be jealous, thanks to a limited-time discount offered to anyone who signs up for an online course in the University of Maine's Digital Curation graduate certificate by September 2014.
The current offer of a discount to in-state tuition (plus an out of state/international fee of $75 per student per term) applies if the course is completed by December 2014, and you weren't previously enrolled at the University of Maine at Orono. You can keep the discount through 2018 if you enroll in the graduate certificate, which comprises 18 credits of training in digital acquisition, representation, access, and preservation.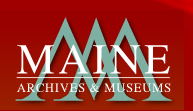 This summer's Maine Archives & Museums quotes John Bell explains the benefits of attracting a global cross-section of students:
"We have been able to put our students in direct conversation with leaders like Jason Scott of the Internet Archive and Richard Rinehart, developer of the MANS metadata standard for media art, where we've have had some students who are physically sitting in a classroom in Orono joined by students attending remotely from Los Angeles, Mexico City, or London. It has been a great way to bring together national and international perspectives even though we're not all in the same room."
MAM author Desiree Butterfield-Nagy cites the experiences of recent UMaine Digital Curation students:
Katrina Wynn, Archive Manager at the Maine Folklife Center, began taking courses to broaden her perspective in parts of her position where she had had only minimal training. Wynn notes, "Being in this program really feels like I'm at the front of an incoming wave, which is an exciting feeling and can only serve me well in the future…"

When asked what has been most valuable in training so far, Wynn points to testing an automated metadata extractor, "which means that I have a wonderful emergency back-up of essential preservation metadata" for the Folklife Center's digital files, something that would have been prohibitively time-consuming if attempted manually. [Librarian Jen] Bonnet points to a research project developed with a journalism historian. Based on what she has learned, the project "attempts to address some of the growing concerns regarding how born-digital news content will be preserved for posterity."

UMaine history student Tess L'Heureux remembers when a committee member showed her a project that he participated in as a post-doc, the Trans-Atlantic Slave Trade Database. She says she remembers thinking, "Now this is something I could really get into! Over 35,000 voyages contained in one highly flexible database; this is the type of model that historians, archivists, and museums should aspire to create."
Offered this September is our introductory course, DIG 500 (Introduction to Digital Curation), along with a more advanced course in Digital Collections and Exhibitions (DIG 540). DIG 500 covers how digital artifacts are made, acquired into collections, and tracked, including legal and technical considerations. DIG 540, taught by John Bell, now at Dartmouth, covers how to add your collection to a database and create an online exhibition using the most popular Web technologies for this purpose, PHP and MySQL.
As another cost savings, we have designed the final course as an internship that may take place in the student's own workplace–potentially sponsored by the host institution. You can take courses as part of the overall graduate certificate or just by themselves. Register by September 2nd on the University of Maine's MaineStreet system.
More on these courses at DigitalCuration.UMaine.edu.