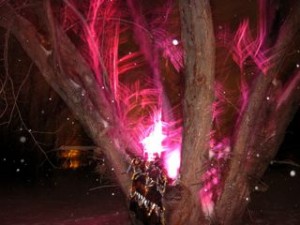 One of the coldest weeks of the year didn't stop attenders of Aurono Borealis, an outdoor performance at LongGreenHouse this January.  Intermedia MFA students in Joline Blais's LifeArt class organized a "council of beings" that attracted a variety of faculty, students, and members of the Wabanaki community.

Contributions included an outdoor interactive LED installation by Oren Darling that inhabited a magnificent maple tree, as well as a Fire Suit by Carol Ayoob that literally uncovered the "silver lining" in discarded coffee bags. Jessica Moulton performed interactive poetry, while Nick Rucker, appointed firekeeper, kept the bonfire ablaze and the youth entertained with stories of youthful adventure and rebellion.
The intermedia event was geared at nurturing a series of LifeArt research/practices on site including permaculture gardens, a food forest corridor of nut and fruit trees and berry bushes, and wetlands restoration. The goal of these activities is to reforge the link between the natural and cultural habitat, engaging a live-in team of permaculture interns who work on site as they pursue university degrees, and hosting a series of workshops open to the local community.
These experiments in co-creating with other people or living beings were the focus of of the Aurono Borealis celebration.  Students in the LifeArt class invited guests to assist them in defining the natural environment that grounds them as artists and then to leverage their connection to local communities and ecosystems to amplify their work's generative effects.
Their challenge to guests and to art world dogma:
What happens when art is redefined as co-creation with natural systems?
What happens when  art regenerates living systems–both natural and cultural?
Photos by Amy Pierce.
Tags: art, event, indigenous, intermedia, LongHouse, orono, sustainability, Wabanaki