In 1994 artist Douglas Davis hit upon a surefire way to write a preposterously long sentence. He and his collaborators created a page on what was then a fledgling World Wide Web through which anyone could add words and phrases onto a growing string of HTML. Two decades later, it fell to digital conservator Ben Fino-Radin to restore this landmark of Internet art. He described the process–along with his work to recover the earliest Macintosh icons and manage digital collections at the Museum of Modern Art–in a teleconference this spring with students of the University of Maine's Digital Curation program.
A skilled preservationist with both a high-level view of the field as well as in-depth knowledge about pragmatic tools, Fino-Radin has been a driving force behind some of the most innovative conservation projects of the last decade, working with the Whitney, New Museum, and most recently as digital collection manager at the Museum of Modern Art.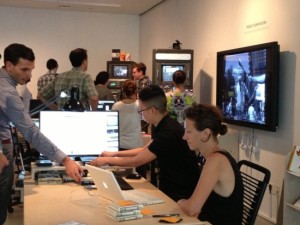 Fino-Radin began the teleconference by reviewing MoMA's acquisition of the earliest graphic designs for the Macintosh by legendary designer Susan Kare. Collecting these literally iconic designs was more complex than simply dragging files off a USB drive. Fino-Radin explained for students the process of digitizing obsolete floppy disks with a Kryoflux, imaging early Macintosh and Windows file systems, and using emulators to read ancient disk formats.
In preserving the World's First Collaborative Sentence–the first work of Internet art acquired by a museum—Fino-Radin worked with the Whitney's Carol Mancusi-Ungaro and Christiane Paul, herself a participant in a past teleconference with Digital Curation students. Fino-Radin detailed the many complications of restoring a participatory Internet work, including reconstructing missing server scripts and handling error-filled content. Ultimately the team chose to "fork" the work into two variations–a functioning contemporary version and an inert but historically accurate version–to satisfy the needs of two different audiences for the work. This strategy embodies the both/and approach advocated in the book Re-collection: Art, New Media, and Social Memory, which serves as a textbook for the University of Maine's digital preservation class.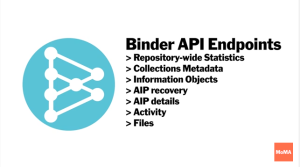 Fino-Radin also described digital curation solutions at various scales, from a cloud backup system for the studio of artist Cory Arcangel to an open-source digital repository manager developed at MoMA called Binder. He also described an installation called Transfer Station (XFR STN), which invited owners of personal or institutional archives to bring floppy disks, videotapes, and other obsolete formats to a walk-in forensic clinic that digitized their material and posted it to the Internet Archive. (Internet Archive maven Jason Scott joined UMaine Digital Curation students for a teleconference in the spring of 2014.)
Digital Curation students are invited to watch an interactive recording of Fino-Radin's conversation, which originally took place on 12 May 2016. This September the program offers courses on Introduction to Digital Curation and Digital Collections and Exhibitions. Anyone interested in registering in this all-online program can find out more at DigitalCuration.UMaine.edu.