You are currently browsing the archive for the Craig category.

Photo archivists and Twitter sociologists, guerilla gardeners and best-selling Kindle authors descend on Orono, Maine for the 2011 Digital Humanities Week.
Tags: digital humanities, education, network, New Media, orono, presentation, preservation, sharing, software, Still Water, University of Maine, variable media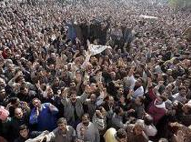 In recent weeks the ThoughtMesh publishing platform has expanded to include videos of conference proceedings, reports on the 2011 Egyptian revolution, and book-length publications.
Critical Code Studies has launched a Mesh to publish proceedings of their 2010 conference, in conjunction with a HASTAC Scholars Forum on the same topic of software studies. The launch coincides with a major ThoughtMesh upgrade from Still Water Senior Researcher Craig Dietrich that enables videos and articles to coexist side-by-side. The videos include talks by keynote speaker Wendy Chun and a host of prominent scholars.
ThoughtMesh is a free publishing platform created by Still Water with sponsorship from USC's Vectors journal. Once "meshed" with this software, any document is automatically linked via automatically generated tags to related documents across the Web.
While the CCS Mesh gathers together seventeen presentations from the conference, many authors use ThoughtMesh to publish one document at a time. Just last week Egyptian-American Laila Shereen Sakr published a call to action based on her hash tag analysis engine that mines Twitter to follow anti-government protests in Egypt.
Tags: network, publication, sharing, software, Thoughtmesh