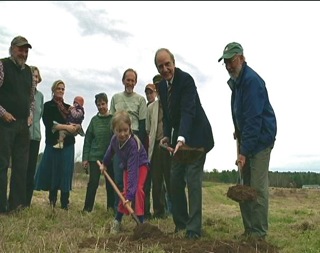 Senator George Mitchell broke ground in November for Belfast Cohousing & Ecovillage, the sustainable community on the coast of Maine that has been called "the future of housing."
Still Water Co-Directors Joline Blais and Jon Ippolito are founding members of the Ecovillage, along with 20 other families dedicated to this self-developed and self-financed neighborhood. Its home design won the 2011 LEED Project of the Year.
Apart from net-zero energy homes, the project features a Book of Commons ensuring that all residents share in a large Common House, food growing in their backyard, and governance by consensus.
As a US senator, Mitchell gained renown as an envoy in the Arab-Israeli peace process, and won the Presidential Medal of Freedom for his role in securing peace in Northern Ireland.
The groundbreaking was covered by numerous television, newspaper, and radio outlets.
George Mitchell cheers unique housing development in Belfast (Bangor Daily News)
Former U.S. Sen. George Mitchell grabbed a spade and dug right in
Tuesday afternoon as the crowd attending a groundbreaking ceremony for
the Belfast Cohousing & Ecovillage development erupted in cheers and
whistles….

"This project is unique in so many respects," Mitchell said.

He ticked off ways that the 50-member, 42-acre community is different
from typical housing developments, including its commitment to energy
efficiency, its environmental concern and its "walkable" design.
Mitchell said that while some may disagree that people need to work to
fix real problems with the environment, he's glad that the Belfast
Cohousing members aren't among them.

"The problem is so large and so vast in scope, there's a tendency on
the part of many individuals to say it's too big for me to solve it," he
said. "We know it will take the combined efforts of millions and
perhaps billions of people all over the world…."

City Councilor Marina Delune [said], "I think that this is the future of housing."
Super Energy-Efficient Belfast Housing Project Gets Underway (MPBN)
An innovative and long-planned co-housing development in Maine has finally broken ground. The Belfast Cohousing and Ecovillage will consist of 36 one-to-three bedroom homes, built to meet the highest standard for energy efficiency in the world. Houses will be clustered together on the roughly 41-acre site of a former dairy farm, connected by walking paths to promote community cohesion. Residents will work together to run their affairs. That the project actually has cement in the ground is no small achievement, at a time when the housing market nationwide remains dismal, and the appetite for new multi-home developments is limited.
New Type of Neighborhood Coming to Belfast (WABI, TV 5)
"We'll grow a lot of our own food. We'll share a lot of things in common, tools and mowers and things like that," said
Jeffrey Mabee, who will be moving into the community.

Former Senator George Mitchell commends the sustainability of the community.

"I think it takes a project like this to create an awareness that by acting together we can do something," said Mitchell.
An Eco Village takes shape in Belfast (WCSH, TV 6)
Tags: Belfast, cohousing, ecovillage, GreenHouse, LongHouse, press, sharing, sustainability