For the last several years, Still Water Co-Directors Joline Blais and Jon Ippolito have been working with 20 other families to found an ecovillage on the coast of Maine. Now Belfast Cohousing & Ecovillage has won the National Resource Council of Maine's 2011 People's Choice Award "for exceptional efforts and tireless work to establish a model environmentally sustainable, affordable, multi-generational cohousing community."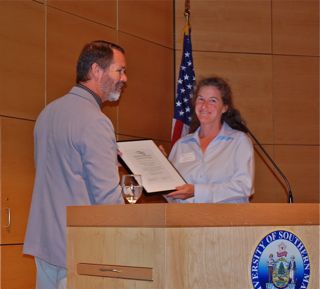 Senator George Mitchell presided over the ceremony. As the citation states:
Belfast Cohousing is a diverse group of individuals and families working since 2007 to create a residential community based on neighborhood cooperation, affordability, and ecological sustainability with clustered housing and shared infrastructure, located in Belfast.

Everything about this unique community has been carefully planned: it is just two miles from town, an easy walk or bike trip. House walls, a barn, even items like kayaks and lawnmowers will be shared. Home heating requirements will be 90 percent less than that of standard new construction, with passive solar design and no fossil fuel deliveries to the homes—no oil burners or propane stoves.

Their plan includes maintaining the fields, forests, and waterways around them in as natural a state as possible. They hope to provide incentives for farmers to settle in the community, with land, processing, storage, and other space designed just for them.

Participation by co-housing members at January's Regulatory Reform Committee meeting in Belfast helped expose and put the brakes on the many half-truths being used [to] promote environmental rollbacks.

For these remarkable efforts, it is our honor to present to Belfast Co-Housing & Ecovillage the 2011 NRCM People's Choice Award.

Construction is due to begin in October. There is still room for a few more residents; anyone interested can contact Still Water for more information.