Many of us have important relationships with animals, be they the beloved family dog or the meddlesome raccoon that keeps getting into the garbage.
But what about plants? Their relationships to humans may be much less visible in popular media, if it's conscious at all. Yet some people's connections to a particular medicinal herb, houseplant, or tree have "deep roots."
This is the realization behind Healing Seeds, a performative artwork by Joline Blais that documents people's personal relationships with plants.
Since I have returned to Maine I have been growing herbs that I have used successfully to treat a number of ailments, from skin wounds, to fractures to pneumonia. Plants are nature's chemical engineers, so I have been working recently to assist in this engineering to personalize their medicine and to share knowledge of natural "farmaceuticals."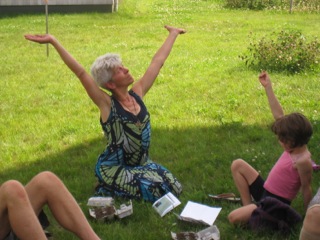 Plants play critical cultural and medicinal roles in many indigenous traditions; the yucca is revered among Amazonians, while sage is sacred to the Passamaquoddy. For her project, Blais turned to an indigenous Russian tradition quoted in Vladimir Megre's Anastasia books.
In order to share this with others, and learn from our collective experiences, I will be sharing a simple Russian indigenous recipe for "coding" seeds–through rubbing the seed in your hands, and soaking the seed in your mouth–to create personalized medicine….

Participants for Healing Seeds get seeds, code them with their personal information, and plant the seeds. As the seeds grow, I invite you to chart your relationship to the plant and way that feels right to you (photos, journal, poem, video) and post documentation of your stories where others will also be sharing their stories of connection and healing (or loss and grief).

To date Blais has facilitated the ritual planting with a few dozen people, both privately and at venues like the Belfast Art Walk and Belfast Cohousing & Ecovillage. The participants' stories will be documented on the Web site and are on view in the exhibition Portals: Six Environmental Art Installations, which opened September 6 and runs through November 27 at Waterfall Arts in Belfast.
Portals is co-sponsored by MEAD (Maine Environmental Art & Design), Unity College, the Center for Maine Contemporary Art, and the Maine Farmland Trust.